It was a gorgeous night at the Wharf on the rooftop of our employer partner CBRE for our Embrace Change, Celebrate Resilience Fall Gala. Thank you to CBRE for hosting and to everyone who came out and supported us, as well as our many generous supporters who were unable to be with us in person. A big thanks to Game Genius for helping make the night amazing- we couldn't have done it without you! We successfully met our fundraising goal for the event and surpassed our $25,000 scholarship matching grant. THANK YOU for helping us continue to empower young neurodiverse people and diversify the workplace.
Soon we will be sharing with everyone a video recapping the evening for those who were not there to enjoy it or for those who would like to relive the night. The video will feature happenings and videos from throughout the event, but most importantly, our incredible interns!!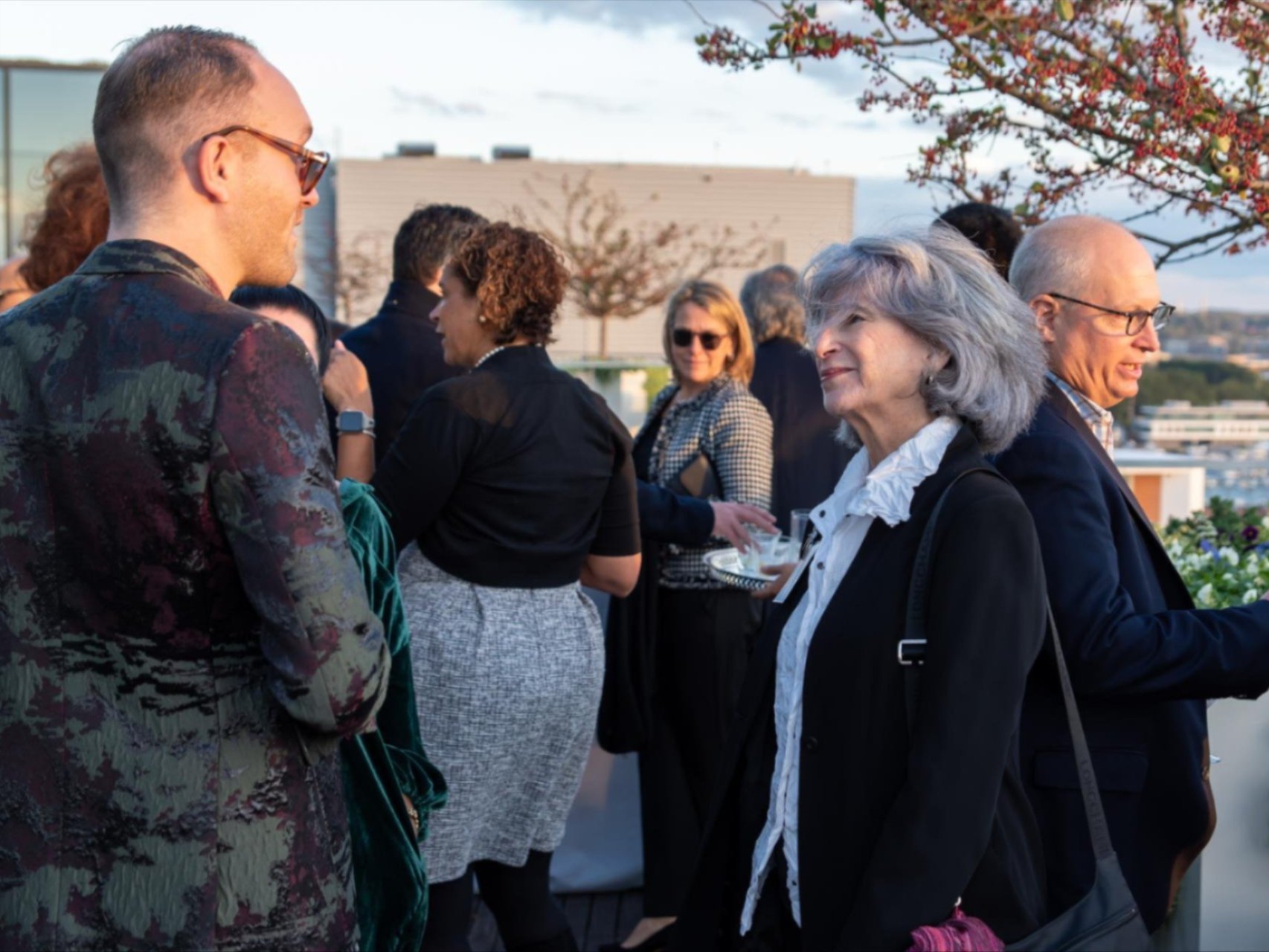 The American Institutes for Research (AIR) is known as one of the world's largest behavioral and social science research organizations. Founded in 1946 as a non-profit organization, their goal is centered around using the best science available to help make the world a better place. AIR is proudly committed to fully integrating diversity and inclusion in their strategy, operations, and work environment and is thrilled to be sharing that mission with BroadFutures. AIR has served as an employer partner with BroadFutures since 2019 and Victoria Geis, a Senior Human Capital Partner of their team, is a dedicated member of our Board of Directors.
Denise Brodey is a senior contributor at Forbes, an Award Winning Workplace Inclusion Expert, Mental Health Writer and Communications Specialist. She is committed to reporting on the role of non-apparent disabilities in the workplace, the business case for inclusion and best practices. Denise writes openly about her lived experiences with ADHD, dyslexia, depression and anxiety. Her first book, The Elephant in the Playroom won a Library Journal Best Book Award. Two years ago, Denise founded Rebel Talent, which brings together CEO's, human resource departments, recruiters, jobseekers, and career services representatives to help diverse minds become confident and get hired and business partners to find untapped neurodiverse talent.
René Brooks has taken a late-life ADHD diagnosis and used it to uplift others. At 25 she was able to get the treatment she deserved and decided that her passion for helping others should be put toward people with ADHD, who are struggling in silence or shame. She is now the proud founder of Black Girl, Lost Keys, a blog that empowers black women with ADHD and shows them how to live well with ADHD. In addition to Black Girl, Lost Keys, René has written for Healthline and is a Patient Contributor to TEVA Pharmaceutical's Life Effects project.
Upcoming Virtual Information Session:
Friday, November 12th | 12:00 – 1:00pm ET
Interested in learning more about our 2022 Internship Programs? Join us for an information session to answer any questions you have. Please RSVP to ctrevey@broadfutures.org in order to receive the Zoom link.
Apply to our 2022 Programs
The Winter 2022 Program Deadline has been extended:
November 15th
Interested in gaining valuable internship experience? Apply to our Winter 2022 Internship Program, which runs from January 24th through April 15th.
Interested in becoming an employer partner?
We are always actively recruiting new employers!
Register for the 2021 Gap Year Conference
Our CEO, Applied Theater Instructor, and Program Coordinator will present at the Gap Year Conference on November 9th, 1-2:30pm ET. The presentation will explore the benefits of incorporating applied theater in experiential learning and how it serves to build communication skills, as well as confidence and community. The session will demonstrate how applied theater can create access and equity for all, especially for disadvantaged populations.
Employer Partner Spotlight – Bethesda Softworks
Founded in 1986 and headquartered just north of Washington, DC, Bethesda Softworks is a video game publisher renowned for some of the biggest games and franchises in interactive entertainment, including DOOM, Fallout, The Elder Scrolls, Wolfenstein, Dishonored, and more. With an international roster of eight development studios spanning three continents, Bethesda boasts one the industry's strongest creative voices and an unrivaled family of world-class designers, artists, engineers, and programmers.
Bethesda enthusiastically supports the mission to advance the potential of young adults with learning disabilities and began its partnership with BroadFutures in the Summer 2019 Program. This past summer, a BroadFutures alumni intern, Michael, worked remotely during the pandemic to test Bethesda's latest video games, helping to discover bugs and ensure quality before release. This kind of QA work is critical to the game development process, helping studios to refine and improve gameplay, raise the bar of quality, and deliver a more perfected experience to millions of fans around the world.
Michael's testing work has been commended by leaders on the QA Team, as he has quickly acclimated to new projects, an important and difficult skill to master in the ever-shifting world of video game testing. His supervisor has acknowledged Michael's performance, saying that he has shown "great communication skills, asking good questions and seeking clarity on things that were confusing." Michael's work contributed to the continued success of Bethesda Softworks' Fallout 76, an online role-playing game set in one of the Company's biggest fictional universes.
We are so excited to be partnering with Bethesda Softworks again next summer and look forward to a continuing relationship! You can learn more about Bethesda Softworks here.
Participant Spotlight – Joan Lee
Meet Joan Lee, a Summer 2021 Strengths participant! An 18-year-old from Northern Virginia, Joan graduated from Chantilly High School right before starting the BroadFutures Strengths Program. Joan was a valuable addition to the cohort this summer, always willing to participate, provide insightful comments, and ask helpful questions. Joan is currently working at their family's restaurant.
We are especially excited about this participant spotlight because Joan attended and spoke at the Embrace Change, Celebrate Resilience Fall Gala. The picture above shows Joan introducing one of our Champion Award recipients, René Brooks. Joan, you did such an incredible job. Thank you for coming to the gala!!!